**The following post is sponsored by FitFluential LLC on behalf of Mizuno.**
Yesterday I completed an insanely sweaty 45 minute run while watching Love Actually. I am obsessed with zoning out during treadmill runs, by the way. I've been loving the Cardio Cinema room in the gym lately, so I finally propped up a TV in our home gym. It's basically a hand-me-down dinosaur on top of a cheap table from K-Mart. Whatever works.
I had my training run planned out on my phone, but I had to cut the cool down extremely short so I could get some things done around the house. In my head, 45 minutes sounded like a good cut-off, I guess? I swear I could have stayed on there and watched movies all night, though. Definitely loving having a TV in there. Kim told me I needed one, and she was right.
Another great addition to my running has been the new Mizuno Wave Rider 17. I've never run in Mizuno shoes before. Shocking, right? I hear they are all the rage, and now I see why.
I've always made it clear that I prefer minimalist running shoes. The more "stuff", the more I hated them. The problem with that mentality is that I lost a lot when it came to cushioning. For shorter runs, this was never an issue. Now that I'm tackling double digit runs every single weekend, my knees are screamin' for some foot pillows, ya know?
I'm, like, 99% sure that Mizuno created the Wave Rider 17 model just for me. I hear it's very similar to the previous Wave Riders but slightly more lightweight and flexible. They managed to do that while still creating a great cushioned, neutral shoe. Hello. That's exactly what I wanted for my long runs. Thanks, Mizuno. We're total BFFs now.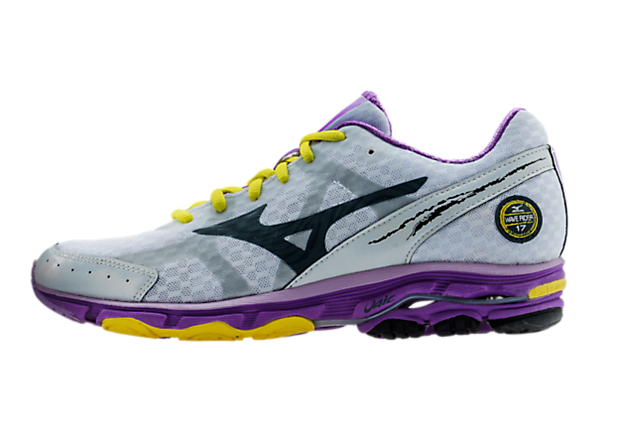 I'm basically crediting these shoes for salvaging my half marathon training. I wore them for my first long run after getting sick, and I swear it gave me the biggest mental and physical boost possible. The week before, my body pretty much shut down on me while I was feeling ill. I've never in my life experienced anything like that during a run, and it scared the crap out of me. I was nervous to attempt my long run the following weekend, thinking the same thing was bound to happen. Thankfully, a mix of feeling better and the cushioned Wave Rider 17s saved my life. (Mezamashii, much?)
I'm being a bit dramatic, but honestly that first 10 mile run in those shoes might have been the best run of my life. I've never felt so much relief. I have since used them for another 10 mile run and a handful of 5-6 mile runs. I plan to keep using these shoes on any run over 5 miles, for sure.
In a nutshell, the Wave Rider 17 is: Neutral. Flexible. Cushioned. Smooth. Cute (hey, it counts for something). Great for longer runs.
The Wave Rider 17s will be available for sale starting today for $114.95 MSRP. I have a feeling they will be on many runners' Christmas lists this year. 😉
Tonight I have an "easy" three miles to run according to my plan, but I also have to go to a Christmas event at school. Hmm. I hope I can squeeze it in!
Question 1: Have you run in Mizuno shoes before? If so, what's your favorite model? I have to admit, I'm down to start a collection.
Question 2: Loyal Mizuno Wave Rider runners, do you think you'll enjoy the changes they've made to the 17s? I'd love to hear your thoughts!