Happy Wednesday, y'all! I've been pretty busy lately, so I haven't documented much of anything in the past few weeks. I don't have much to share when it comes to pictures, but I do have a quick little recipe! It's not healthy, but sometimes you just need a little boxed cake goodness in your life. PS: this post was almost titled "How to Not Lose the Baby Weight". 😉 As always, thanks to Jenn for hosting the link up. Click the following picture to join in!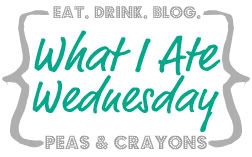 The other day on Pinterest, I stumbled upon a recipe for Banana Pudding Poke Cake. I love all things poke cake, so I started brainstorming some new flavors. Somehow I landed on Tuxedo Cake. Works for me! I don't know why it popped into my head, but I'm sure glad it did.
TUXEDO POKE CAKE
Ingredients:
1 box white cake mix
3 eggs
1 cup water
1/3 cup oil
2 tbsp unsweetened cocoa powder
2 boxes white chocolate instant pudding
4 cups milk
1 tub Cool Whip
handful of chocolate/white chocolate chips
Directions:
Prepare cake mix as directed on the box. Poor 1/3 of the batter in a separate bowl and mix in two tablespoons of cocoa powder.
Swirl batters together into a greased 9×13 cake pan. Bake at 350 degrees for 35 minutes.
Poke holes into the cake using a dowel, straw, or your finger if you get desperate. 😉
Mix together the two boxes of pudding mix and four cups of cold milk. Let it "set" for a minute or two before pouring over the cake.
Chill the cake before topping with Cool Whip, sprinkling on the chips, and stuffing your face.
And there ya have it. Easy peasy. Now I have to head into work. I can see the light at the end of the tunnel… it's almost the weekend! Do y'all have any easy, healthy recipes to share? I need to balance out all the cake I just devoured!